Aka "BB" silver mink 

​       PN Def  N/N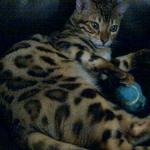 Destiny Bengals Maximus Of Abacus  X  Silvery Linning Of Abacus

             ABACUS GOD SMACK TAKES A CAT NAP  aka "Happy"

          ABACUS PTL 4 Golden Girls x Hotspotz Sterling of ABACUS

I Love the heart shaped spots and happy face on his left side and G.o.d 

                                           on his right shoulder!

                                        Abacus Minky (soft silver)

​Destiny Bengals Maximus of Abacus  X  Ababncus PTL 4 B Fabulous

Minky at 6 months old, color is Soft Silver

Available as of June 27 2014 

3 males, brown, silver and a snow available, Also 1 brown and 1 silver female available.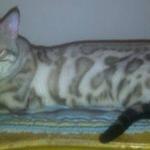 DOB. April 7 2014 Silver spotted (Male) still in Fuzzies

​Dam: Silverstorm Tatiana of Abacus

Sire: Abacus Praise The Lords Work

​Above picture is a 7 weeks old

Born May 2 2014

Dam: Abacus PTL 4 B Fabulous

Sire: Hotspotz Sterling of Abacus

4 kittens Available

Possible charcoal/snow carriers

​1  snow lynx point  male

1 brown spotted male

1 brown spotted female

1 silver spotted male

1 silver spotted  female

​DNA pending 

Click onto pictures to see enlarge

​Above pictures are at 3 weeks of age

Dam: Abacus PTL 4 B Fabulous (aka)  "BB"

Sire: To the kittens Hotspotz Sterling of Abacus

Dam: Silverstorm Tatiana of Abacus

Grand Sire: to the kittens                                        Darkmoon Wicked Enchantment of Amantra

​Click onto picture to see enlarge

Sire: Abacus Praise The Lords Work